[Species Collapse]: from Clapway, Sun May 3 2015:
Study Says Large Herbivores on Verge of Extinction
If the results of a recent study conducted by wildlife experts at Oregon State University is correct, large herbivores are on the verge of extinction all over the world. The study of 74 different kinds of plant eaters showed that there has been a very large reduction in large plant eaters, especially in Africa and Asia, where the majority of them travel and reside. Professor William Ripple, the lead author of the study, announced that results point to as much as 60 percent of the large herbivores that weight over 220lbs are dying off due to things like habitat loss, climate change, over hunting, poaching, and global warming issues.


Little Jack Horner, come blow your horn! / All your cow's relatives may never be born!

[Read more stories about: sixth extinction, habitat loss]

[Permalink]
[Add your own quips!]


[Climate Chaos]: from New Zealand Herald, Sat May 2 2015:
Hundreds of methane gas flares found off coast of Gisborne, NZ
"Preliminary indications are that methane is reaching the ocean surface - this is the first time this has been measured in New Zealand," he said. "However, to understand how much methane, and then what this means for atmospheric contributions, will require detailed analysis of the data."... The discovery of this high concentration of gas flares in shallow water depths - 100m-300m - on an active tectonic subduction zone was unique, as gas seeps usually occurred much deeper, at 600m to 1000m below the surface. The team identified methane gas in the sediment and in the ocean, and vast areas of methane hydrates - ice-like frozen methane - below the seafloor. This year's research voyage continued the work of an international project focusing on the interactions between gas hydrates and slow-moving landslides called SCHLIP - Submarine Clathrate Hydrate Landslide Imaging Project.


You say "clathrate" as if it's a real word!

[Read more stories about: methane release, permafrost meltdown, faster than expected]

[Permalink]
[Add your own quips!]


[Climate Chaos]: from Yale360, Thu Apr 2 2015:
How Long Can Oceans Continue To Absorb Earth's Excess Heat?
The ocean has been heating at a rate of around 0.5 to 1 watt of energy per square meter over the past decade, amassing more than 2 X 1023 joules of energy -- the equivalent of roughly five Hiroshima bombs exploding every second -- since 1990. Vast and slow to change temperature, the oceans have a huge capacity to sequester heat, especially the deep ocean, which is playing an increasingly large uptake and storage role. That is a major reason the planet's surface temperatures have risen less than expected in the past dozen or so years, given the large greenhouse gas hike during the same period, said Kevin Trenberth, senior scientist with the National Center for Atmospheric Research... But scientists say that when the cycle eventually swings back to its positive, warm phase, which history suggests could occur within a decade, the winds will wind down, the pumping will let up, and buried heat will rise back into the atmosphere. "There's a hint this might already be starting to happen," said Matthew England, an ocean sciences professor at the University of New South Wales in Sydney, Australia.... Scientists are also learning that the ocean has gained more heat, and at greater depth, than they had realized. That means the entire climate is even more out-of-whack than is evident today.... The long-term heat gain in the top 700 meters (.43 miles) of the world's oceans has likely been underestimated by as much as half, according to Lawrence Livermore National Laboratories research scientist Paul Durack.


Our ocean heat has grown / Vaster than empires / and more slow

[Read more stories about: ocean warming, global warming, feedback loop, death spiral, faster than expected]

[Permalink]
[Add your own quips!]


[Recovery]: from Guardian, Thu Apr 2 2015:
Syracuse University to divest $1.18bn endowment from fossil fuels
Syracuse University will remove its $1.18bn endowment from direct investments in fossil fuel companies, it announced on Tuesday. Syracuse is the biggest university in the world to have committed to remove its endowment from direct investments in coal, oil and gas companies. It aims to make additional investments in clean energy technologies such as solar, biofuels and advanced recycling. In a statement, the university said it will "not directly invest in publicly traded companies whose primary business is extraction of fossil fuels and will direct its external investment managers to take every step possible to prohibit investments in these public companies as well".


Orange is the new green!

[Read more stories about: alternative energy, smart policy]

[Permalink]
[Add your own quips!]


[Climate Chaos]: from Grist, Sun Mar 29 2015:
Antarctica is basically liquefying
Antarctica's icy edges are melting 70 percent faster in some places than they were a decade ago, according to a new study in the journal Science. These massive ice shelves serve as a buffer between the continent's ice-sheet system and the ocean. As they disintegrate, more and more ice will slip into the sea, raising sea levels by potentially huge amounts. This study is just the latest bit of horrible news from the bottom of the world. Last year, we found out that the West Antarctic ice sheet was in terminal collapse, which could raise sea levels by 10 to 15 feet over a few hundred years. Then, earlier this month, we learned that an enormous glacier on the other side of the continent is in the same state, and could contribute about the same amount to sea-level rise.... But the bad news doesn't seem likely to stop anytime soon: On Monday and Tuesday, it was a balmy 63 degrees Fahrenheit at the bottom of the world, a record high.


Two words: Antarctic Surfing.

[Read more stories about: albedo effect, arctic meltdown, rising sea level, death spiral]

[Permalink]
[Add your own quips!]


[Climate Chaos]: from ThinkProgress, Tue Mar 24 2015:
Smithsonian Stands By Wildly Misleading Climate Change Exhibit Paid For By Kochs
But what may be most shocking of all is that the Smithsonian hasn't fixed the misleading evolution exhibit at its National Museum of Natural History, which thoroughly whitewashes the dangers of modern-day climate change. This "Hall of Human Origins" was made possible by a $15 million grant from billionaire polluter David Koch. It has now been five years since Climate Progress exposed the myriad flaws in the exhibit, a story the New Yorker and others picked up. Last week I spent some time going through the exhibit again with Dr. Lise Van Susteren, a psychiatrist and climate expert who has been featured by The Smithsonian. We were both stunned by the "Don't worry, be happy" picture it paints of current climate change.... In particular, the most embarrassing and scientifically misleading display the Smithsonian designed -- which directly suggests that humans can simply evolve to deal with global warming -- is still in the exhibit. The final section about the present and future has a nonsensical interactive video that lets visitors create a "future human" who evolves over a long period of time to a variety of changing conditions.


Those Koch brothers are such a pair of kidders!

[Read more stories about: deniers, corporate malfeasance, global warming, short-term thinking]

[Permalink]
[Add your own quips!]


[Climate Chaos]: from Ottawa Citizen, Tue Mar 24 2015:
New records detail how climate-change views scuttled an artist's grant
A British Columbia artist and environmental activist accuses government of misusing its censorship powers to hide a politically driven effort to silence her because of her views on climate change and the oilsands. Franke James found herself on the federal government's radar in the spring of 2011 after Canadian diplomats agreed to offer a $5,000 grant in support of a European art tour featuring James's artwork. The grant was revoked a few days later by a senior director of the Foreign Affairs Department's climate change division, who felt the funding would "run counter to Canada's interests."... In one, a departmental trade official notes that a Canadian diplomat in Europe would not help promote the show because of "the artist's views on the oilsands."... Another email sent to the NGO Nektarina stated the reasons for the defunding decision "are not something we are able to provide in writing."


When all else fails, shoot the messengers.

[Read more stories about: governmental corruption, climate impacts, governmental idiocy]

[Permalink]
[Add your own quips!]


[Climate Chaos]: from Washington Post, Fri Mar 20 2015:
The melting of Antarctica was already really bad. It just got worse.
A hundred years from now, humans may remember 2014 as the year that we first learned that we may have irreversibly destabilized the great ice sheet of West Antarctica, and thus set in motion more than 10 feet of sea level rise. Meanwhile, 2015 could be the year of the double whammy -- when we learned the same about one gigantic glacier of East Antarctica, which could set in motion roughly the same amount all over again. Northern Hemisphere residents and Americans in particular should take note -- when the bottom of the world loses vast amounts of ice, those of us living closer to its top get more sea level rise than the rest of the planet, thanks to the law of gravity.


It's clear we need to develop "Mr. Freeze" mutant abilities. Monsanto, are you listening?

[Read more stories about: arctic meltdown, rising sea level, ocean warming]

[Permalink]
[Add your own quips!]


[Resource Depletion]: from Fusion, Thu Mar 12 2015:
Drop by drop: Living through the São Paulo water crisis
According to Sabesp, the Brazilian water company, residents of São Paulo -- more than 10 million people -- should expect five days a week of restrictions and only two days of full service. There was no date given for our access to be restored. If the situation gets worse, people from São Paulo will need to move to other parts of the nation with adequate water. I don't have a wife or kids yet, but this is difficult for everyone. We are all worried we will become refugees. Since October of 2014, I've suffered from water rationing. I know friends and other colleagues who've had these problems since September 2014. This shortage was not an accident, nor an act of God: this is a result of twenty years of government neglecting the ecological management of the water supply.


Livin' la agua loca.

[Read more stories about: water reuse, drought, aquifers depletion]

[Permalink]
[Add your own quips!]


[Climate Chaos]: from The Independent, Wed Mar 11 2015:
March: Arctic sea ice near its all-time winter low and could break previous record
Sea ice in the Arctic is near its all-time minimum for the end of winter and could break the previous record within the next two weeks if it fails to grow, according to the latest satellite data. The area of the Arctic covered by floating sea ice is already the lowest for this time of year, highlighting the long-term warming trend experienced by the region in both winter and summer months. Sea ice expands and contracts with the seasons but satellite data collected since the 1970s shows that it is retreating further and further during the summer months compared to 20 or 30 years ago. Sea ice in summer has shrunk by 30 per cent on average over the past 30 years while average temperatures in the Arctic have risen by about 4C - more than 3C warmer than the global average.


If only I'd shorted Arctic futures -- I'd be set for life.

[Read more stories about: arctic meltdown, faster than expected, ocean warming]

[Permalink]
[Add your own quips!]


[Climate Chaos]: from Miami Herald, Mon Mar 9 2015:
In Florida, officials ban term 'climate change'
The state of Florida is the region most susceptible to the effects of global warming in this country, according to scientists. Sea-level rise alone threatens 30 percent of the state's beaches over the next 85 years. But you would not know that by talking to officials at the Florida Department of Environmental Protection, the state agency on the front lines of studying and planning for these changes. DEP officials have been ordered not to use the term "climate change" or "global warming" in any official communications, emails, or reports, according to former DEP employees, consultants, volunteers and records obtained by the Florida Center for Investigative Reporting.


I shoulda never named my dog Climate Change!

[Read more stories about: deniers]

[Permalink]
[Add your own quips!]


[Biology Breach]: from Endocrine Society, Sat Mar 7 2015:
BPA harms dental enamel in young animals, mimicking human tooth defect
A tooth enamel abnormality in children, molar incisor hypomineralization (MIH), may result from exposure to the industrial chemical bisphenol A (BPA), authors of a new study conclude after finding similar damage to the dental enamel of rats that received BPA. The study results will be presented Friday at the Endocrine Society's 97th annual meeting in San Diego. "Human enamel defects may be used as an early marker of exposure to BPA and similar-acting endocrine disruptors," Babajko said.... Recent published data show that MIH affects up to 18 percent of children ages 6 to 9 years. Although the cause is unclear, it appears to have an environmental origin, according to the study authors.


Rat teeth in the coal mine!

[Read more stories about: bisphenol A, toxic buildup, plastic problems]

[Permalink]
[Add your own quips!]


[Climate Chaos]: from Mashable, Tue Mar 3 2015:
Seeds of war
Manmade global warming helped spark the brutal civil war in Syria by doubling to tripling the odds that a crippling drought in the Fertile Crescent would occur shortly before the fighting broke out, according to a groundbreaking new study published on March 2. The study, published in the journal Proceedings of the National Academy of Sciences, is the first to attribute the drought in Syria in large part to global warming. In doing so, it provides powerful evidence backing up the Pentagon and intelligence community's assessments that climate change is likely to play the role of a "threat multiplier" in coming decades, pushing countries that are already vulnerable to upheaval over the edge and into open conflict.


Peace out

[Read more stories about: anthropogenic change, drought, food crisis, health impacts, health impacts, global warming]

[Permalink]
[Add your own quips!]


[Resource Depletion]: from Guardian, Mon Mar 2 2015:
Sao Paulo - anatomy of a failing megacity: residents struggle as water taps run dry
According to a crisis report published on 9 February by the pressure group Aliança Pela Água (Water Alliance), whereas catastrophic situations like flooding often fosters solidarity, a lack of resources tends to do the opposite, leading to chaos and even violence. In Itu, a city 100km from São Paulo a desperate water shortage in late 2014 led to fighting in queues, theft of water, and the looting of emergency water trucks, which are now accompanied by armed civil guards. These events left many paulistanos wondering how the hardship might play out in their own pressurised and densely populated city.


drip... drip... drip...

[Read more stories about: water issues, drought, climate impacts]

[Permalink]
[Add your own quips!]


[Climate Chaos]: from Huffington Post, Sun Mar 1 2015:
Jim Inhofe Brings A Snowball To The Senate Floor To Prove Climate Change Is A 'Hoax'
The Senate's most vocal critic of the scientific consensus on climate change, Jim Inhofe of Oklahoma, tossed a snowball on the Senate floor Thursday as part of his case for why global warming is a hoax.... "In case we have forgotten, because we keep hearing that 2014 has been the warmest year on record, I ask the chair, 'You know what this is?'" he said, holding up a snowball. "It's a snowball, from outside here. So it's very, very cold out. Very unseasonable."


Not a snowball's chance of a nice afterlife for him if God isn't a denier.

[Read more stories about: deniers]

[Permalink]
[Add your own quips!]


[Climate Chaos]: from Reuters, Sun Mar 1 2015:
Most Americans see combating climate change as a moral duty
A significant majority of Americans say combating climate change is a moral issue that obligates them - and world leaders - to reduce carbon emissions, a Reuters/IPSOS poll has found. The poll of 2,827 Americans was conducted in February to measure the impact of moral language, including interventions by Pope Francis, on the climate change debate. In recent months, the pope has warned about the moral consequences of failing to act on rising global temperatures, which are expected to disproportionately affect the lives of the world's poor.... Two-thirds of respondents (66 percent) said that world leaders are morally obligated to take action to reduce CO2 emissions. And 72 percent said they were "personally morally obligated" to do what they can in their daily lives to reduce emissions.


I know. Let's stop voting for deniers.

[Read more stories about: people rise up]

[Permalink]
[Add your own quips!]


[Climate Chaos]: from InsideClimate News, Sun Mar 1 2015:
Documents Reveal Fossil Fuel Fingerprints on Contrarian Climate Research
After finishing a study contending that solar activity is increasing global warming, scientist Willie Soon of the Harvard-Smithsonian Center for Astrophysics reported his news to a utility company that was a major funder of his work.... The communications show that Soon called his peer-reviewed research papers "deliverables" in return for funding from fossil fuel companies. In addition, the documents reveal that Soon and Harvard-Smithsonian gave the coal utility company the right to review his scientific papers and make suggestions before they were published. Soon and Harvard-Smithsonian also pledged not to disclose Southern's [Southern Company Services, a mega utility company in the southeastern U.S. that generates power largely from coal] role as a funder without permission.


Science bought and paid / for by those responsible / for our Earth's demise

[Read more stories about: climate impacts, deniers]

[Permalink]
[Add your own quips!]


[Plague/Virus]: from New York Times, Fri Feb 20 2015:
A Mosquito Solution (More Mosquitoes) Raises Heat in Florida Keys
In this bite-size community near Key West, like so many other mosquito-plagued spots up and down the Florida Keys, residents long ago made peace with insecticides dropped into town by planes or rumbling by on trucks. Cans of Off are offered at outdoor parties. Patio screens are greeted with relief. But Keys residents are far less enamored of another approach to mosquito control -- a proposal to release the nation's first genetically modified mosquitoes, hatched in a lab and pumped with synthetic DNA to try to combat two painful mosquito-borne viral diseases, dengue and chikungunya.


That's what I call fighting fire with fire!

[Read more stories about: pandemic]

[Permalink]
[Add your own quips!]


[Biology Breach]: from LiveScience, Fri Feb 20 2015:
Utah Suicides Linked to Air Pollution
Suicide may be linked to air pollution, according to new research that finds spikes in completed suicides in the days following peak pollution levels. The research took ...


[Biology Breach]: from Ensia, Thu Feb 19 2015:
What are we doing to our children's brains?
The numbers are startling. According to the U.S. Centers for Disease Control and Prevention, about 1.8 million more children in the U.S. were diagnosed with developmental ...

Don't miss: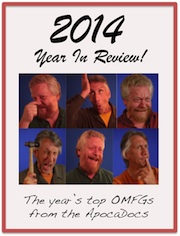 ---
Apoc-o-Meter
from the last 7 days


or visit our: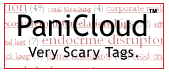 ---
"Perfect as a bathroom reader."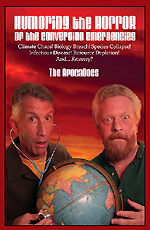 Humoring the Horror of the
Converging Emergencies
94 color pages
$24.99 now $15!
Or read FREE online!

---
Play: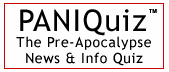 It's weekly, funny, and free!


Random Sample PANIQuestion:
What does a Texas inventor call his "bio-crude," derived from organic waste?
a) Vetroleum
b) Crude-tane
c) Dies-o-late
d) Better-n-Saudi
e) Blackgoldeum

Answer: Vetroleum

---