[Resource Depletion]: from Science Advances, via CommonDreams, Sat Feb 13 2016:
4 Billion People at Risk as 'Water Table Dropping All Over the World'
Freshwater scarcity is increasingly perceived as a global systemic risk. Previous global water scarcity assessments, measuring water scarcity annually, have underestimated experienced water scarcity by failing to capture the seasonal fluctuations in water consumption and availability. We assess blue water scarcity globally at a high spatial resolution on a monthly basis. We find that two-thirds of the global population (4.0 billion people) live under conditions of severe water scarcity at least 1 month of the year. Nearly half of those people live in India and China. Half a billion people in the world face severe water scarcity all year round. Putting caps to water consumption by river basin, increasing water-use efficiencies, and better sharing of the limited freshwater resources will be key in reducing the threat posed by water scarcity on biodiversity and human welfare.


C'mon. Drought is just a market opportunity!

[Read more stories about: drought, aquifers depletion, water issues, water issues, holyshit]

[Permalink]
[Add your own quips!]


[Resource Depletion]: from PhysOrg, Fri Jan 29 2016:
Landscape pattern analysis reveals global loss of interior forest
Between 2000 and 2012, the world lost more forest area than it gained, according to U.S. Forest Service researchers and partners who estimated a global net loss of 1.71 million square kilometers of forest--an area about two and a half times the size of Texas. Furthermore, when researchers analyzed patterns of remaining forest, they found a global loss of interior forest--core areas that, when intact, maintain critical habitat and ecological functions.... Their analysis revealed a net loss of 3.76 million square kilometers of interior forest area, or about ten percent of interior forest--more than twice the global net loss of forest area. The rate at which interior forest area was lost was more than three times the rate of global forest area loss. All forest biomes experienced a net loss of interior forest area during the study period. Across the globe, temperate coniferous forests experienced the largest percentage of loss, tropical and subtropical moist broadleaf forests lost the most area of interior forest, and boreal forests and taiga lost interior forest at the highest rate.


There are so many trees in heaven....

[Read more stories about: forests, rain forest depletion, deforestation]

[Permalink]
[Add your own quips!]


[Recovery]: from IEEE Spectrum, Wed Jan 27 2016:
NOAA Model Finds Renewable Energy Could be Deployed in the U.S. Without Storage
The majority of the United States's electricity needs could be met with renewable energy by 2030--without new advances in energy storage or cost increases. That's the finding of a new study conducted by researchers from the National Oceanic and Atmospheric Administration (NOAA). The key will be having sufficient transmission lines spanning the contiguous U.S., so that energy can be deployed from where it's generated to the places where its needed. Reporting their results today in Nature Climate Change, the researchers found that a combination of solar and wind energy, plus high-voltage direct current transmission lines that travel across the country, would reduce the electric sector's carbon dioxide emissions by up to 80 percent compared to 1990 levels.


Alas, only rational humans will listen to the fruitless bleatings of scientists and engineers.

[Read more stories about: alternative energy, efficiency increase, smart policy, sustainability]

[Permalink]
[Add your own quips!]


[Climate Chaos]: from Desmog Canada, Sun Jan 24 2016:
"The Blob" Disrupts What We Think We Know About Climate Change, Oceans Scientist Says
When the abnormally warm patch of water first appeared in 2013, fascinated scientists watched disrupted weather patterns, from drought in California to almost snowless winters in Alaska and record cold winters in the northeast. The anomalously warm water, with temperatures three degrees Centigrade above normal, was nicknamed The Blob by U.S climatologist Nick Bond. It stretched over one million square kilometres of the Gulf of Alaska -- more than the surface area of B.C. and Alberta combined -- stretching down 100-metres into the ocean. And, over the next two years that patch of water radically affected marine life from herring to whales. Without the welling-up of cold, nutrient-rich water, there was a dearth of krill, zooplankton and copepods that feed herring, salmon and other species. "The fish out there are malnourished, the whole ecosystem is malnourished," said Richard Dewey, associate director for science with Ocean Networks Canada, speaking at Shaw Ocean Discovery Centre in Sidney on Thursday.... It could be an indication of what climate change will look like, with large-scale shifts in weather patterns, said Dewey, pointing out that The Blob was not anticipated by climatologists because it did not fit into existing climate models. "Climate change may look like a whole new model we haven't seen before," Dewey said.


It might be time for Godzilla to smash industrial civilization.

[Read more stories about: koyaanisqatsi, carbon sinks, climate impacts, jellyfish, ocean warming, tipping point]

[Permalink]
[Add your own quips!]


[Species Collapse]: from Phys.org, Fri Jan 22 2016:
Evolutionary clock ticks for snowshoe hares facing climate change
Snowshoe hares that camouflage themselves by changing their coats from brown in summer to white in winter face serious threats from climate change, and it's uncertain whether hare populations will be able to adapt in time, according to a North Carolina State University study. Based on field research with radio-collared snowshoe hares in Montana, mismatched snowshoe hares suffer a 7 percent drop in their weekly survival rate when snow comes late or leaves early and white hares stand out to predators like "light bulbs" against their snowless backgrounds.... Camouflage mismatch has the potential to impact at least 14 species worldwide that change coat colors seasonally, Mills says. His team of researchers is expanding the coat color research to other species globally, including mountain hares, white-tailed jackrabbits, weasels and arctic foxes.


Hare today, gone tomorrow.

[Read more stories about: ecosystem interrelationships, climate impacts, sixth extinction]

[Permalink]
[Add your own quips!]


[Climate Chaos]: from The Guardian, Thu Jan 14 2016:
Climate change disaster is biggest threat to global economy in 2016, say experts
A catastrophe caused by climate change is seen as the biggest potential threat to the global economy in 2016, according to a survey of 750 experts conducted by the World Economic Forum. The annual assessment of risks conducted by the WEF before its annual meeting in Davos on 20-23 January showed that global warming had catapulted its way to the top of the list of concerns. A failure of climate change mitigation and adaptation was seen as likely to have a bigger impact than the spread of weapons of mass destruction, water crises, mass involuntary migration and a severe energy price shock - the first time in the 11 years of the Global Risks report that the environment has been in first place.


How did my bad hair day not even make the list?

[Read more stories about: climate impacts]

[Permalink]
[Add your own quips!]


[Recovery]: from Detroit Free Press, Mon Jan 11 2016:
State Police to deliver water door-to-door in Flint
Michigan State Police troopers and other state officials will start a door-to-door sweep of Flint on Tuesday to hand out bottled water and water filters... Flint's drinking water was contaminated with lead, and an unknown number of children were poisoned while the city was under the control of a state-appointed emergency manager in 2014 and 2015. The emergency manager, to cut costs, switched Flint's water supply source from Lake Huron, supplied by the Detroit Water and Sewerage Department, to the more polluted and corrosive Flint River.


Let them drink Flint.

[Read more stories about: health impacts, capitalist greed, toxic water]

[Permalink]
[Add your own quips!]


[Recovery]: from InsideClimate News, Sun Jan 10 2016:
Vermont Governor Urges State to Divest from Coal, Exxon
Vermont Gov. Peter Shumlin said on Thursday his state should take action against climate change this year by divesting public pension funds from coal and from oil giant ExxonMobil, because of its history of sowing doubt about climate change despite the company's own scientists having studied it. Speaking at his annual State of the State address, Shumlin said, "The urgency for us to take every sensible action against climate change has never been greater." He asked his legislature to send him a bill that would divest the state's public pension funds from all coal stocks, as well as from stock in Exxon.


Now that's what I call leadership.

[Read more stories about: carbon emissions, coal issues, deniers, wisdom, smart policy]

[Permalink]
[Add your own quips!]


[Climate Chaos]: from The Guardian, Thu Jan 7 2016:
December 2015 was the wettest month ever recorded in UK
December was the wettest month ever recorded in the UK, with almost double the rain falling than average, according to data released by the Met Office on Tuesday. Last month saw widespread flooding which continued into the new year, with 21 flood alerts in England and Wales and four in Scotland in force on Tuesday morning. The record for the warmest December in the UK was also smashed last month, with an average temperature of 7.9C, 4.1C higher than the long-term average.


If this were a sport, Mother Nature would be killing it!

[Read more stories about: climate impacts, water issues, health impacts]

[Permalink]
[Add your own quips!]


[Biology Breach]: from E&E Publishing, Tue Jan 5 2016:
Okla. shaking jumped 50 percent in 2015
The number of earthquakes in Oklahoma rose 50 percent last year, easily surpassing the record number that hit the state in 2014. Oklahoma Geological Survey (OGS) data show that the state was shaken by 881 earthquakes of magnitude 3 or greater, or an average of 2.4 per day. That's up from 585 in 2014. U.S. Geological Survey data show that California had 128 such quakes in 2015. Scientists and state officials say the increase in earthquakes in Oklahoma likely has been caused by wastewater disposal from oil and gas operations. Oil production methods that yield unusually large volumes of water have combined with favorably aligned faults under the state to cause the unprecedented shaking.


I feel the earth move under my feet I feel the sky tumbling down, tumbling down...

[Read more stories about: unintended consequences, oil issues, fracking, geoengineering]

[Permalink]
[Add your own quips!]


[Biology Breach]: from Wisconsin State Journal, Tue Jan 5 2016:
Pipeline company sues county over moot insurance requirement
A Canadian oil pipeline company that is building a tar sands oil pumping station in northeastern Dane County sued the county on Monday over the continued inclusion of permit language requiring it to buy spill insurance, despite a new state law forbidding that requirement.... The state Legislature included language in the state budget, signed by Gov. Scott Walker in July, that prohibits such insurance requirements, but the county zoning committee on Sept. 29 voted to restore the requirement, adding a note that reflects the state law... County Board Chairwoman Sharon Corrigan has said that the board left the insurance requirement in the permit in case a future Legislature changes the law.


One can always hope.

[Read more stories about: contamination, capitalist greed, toxic leak, oil issues]

[Permalink]
[Add your own quips!]


[Recovery]: from Washington Post, Mon Jan 4 2016:
Wind, solar power soaring in spite of bargain prices for fossil fuels
Wind and solar power appear set for a record-breaking year in 2016 as a clean-energy construction boom gains momentum in spite of a global glut of cheap fossil fuels.... Energy analysts say the boom is being spurred in part by improved technology, which has made wind and solar more competitive with fossil fuels in many regions. But equally important, experts say, is better access to financing, as major Wall Street investment houses adopt a more bullish posture toward an industry that was once considered financially risky. In November, Goldman Sachs announced it was quadrupling its investments in renewables to $150 billion.


What do you want me to do with my coal plant, turn it into a friggin' art gallery?

[Read more stories about: renewable energy]

[Permalink]
[Add your own quips!]


[Climate Chaos]: from PNAS, in Washington Post, Wed Dec 23 2015:
Bad news: Scientists say we could be underestimating Arctic methane emissions
"...The fact that this was done not just at one site, but multiple sites, is a breakthrough in our ability to quantify [methane] budgets for tundra ecosystems." The researchers found that cold-season methane emissions are not only not negligible -- they're pretty significant. While emissions varied somewhat from one site to the next, Zona said that, overall, emissions from September to May accounted for about half of all the methane emitted from those sites throughout the entire year. This might seem a little baffling when you consider the fact that methane is generally released as Arctic soil thaws -- a process that should be most pronounced during the warmest part of the year. Zona said the key to understanding where cold-season emissions come from lies in the way Arctic soil is structured and how it reacts to changes in temperature.


Oh, right: bacteria never sleep!

[Read more stories about: arctic meltdown, methane release, permafrost meltdown, faster than expected, feedback loop]

[Permalink]
[Add your own quips!]


[Plague/Virus]: from Washington Post, Mon Dec 7 2015:
Superbug known as 'phantom menace' on the rise in U.S.
...This superbug's strains belong to the family of bacteria known as CRE, which are difficult to treat because they are often resistant to most antibiotics. They are often deadly, too, in some instances killing up to 50 percent of patients who become infected, according to the CDC. Health officials have called CRE among the country's most urgent public health threats.... This type of CRE has had a lower profile because it's actually less antibiotic-resistant than other more common types of CRE. As a result, it hasn't been a frequent focus of testing and has largely escaped detection by health officials, prompting some researchers to dub it "the phantom menace."


As long as Natalie Portman is somehow involved, we'll be fine.

[Read more stories about: antibiotic resistance, health impacts, pandemic]

[Permalink]
[Add your own quips!]


[Species Collapse]: from BBC, Tue Sep 1 2015:
Seabirds 'blighted by plastic waste'
About 90 percent of seabirds have eaten plastic and are likely to retain some in their gut, a new analysis estimates. The study concludes that matters will only get worse ...


[Species Collapse]: from Gail at Wit, Mon Aug 17 2015:
Dispatch from the Endocene, #9
Following is the transcript from my segment on Extinction Radio which airs Sunday, August 16 ... The Dead zone in the Gulf of Mexico is larger this summer than it has ...

Don't miss: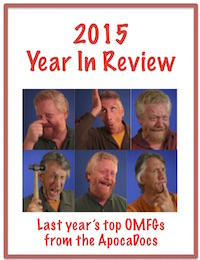 ---
Apoc-o-Meter
from the last 7 days


or visit our: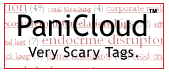 ---
"Perfect as a bathroom reader."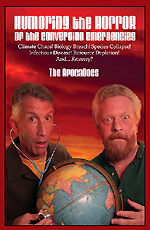 Humoring the Horror of the
Converging Emergencies
94 color pages
$24.99 now $15!
Or read FREE online!

---
Play: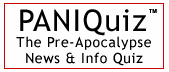 It's weekly, funny, and free!


Random Sample PANIQuestion:
Why is a power plant near Chicago being shut down?
a) Activists won!
b) The governor intervened.
c) Owners were worried about health impacts.
d) Owners decided it wasn't worth upgrading.
e) It was owned by bin Laden, who's now dead.

Answer: Owners decided it wasn't worth upgrading.

---