[Biology Breach]: from London Guardian, Fri Aug 29 2014:
Lack of toilets blights the lives of 2.5bn people, UN chief warns
The world's lack of progress in building toilets and ending open defecation is having a "staggering" effect on the health, safety, education, prosperity and dignity of 2.5 billion people, the UN deputy secretary general, Jan Eliasson, has warned.... According to the UN, 2.5 billion people still lack "improved sanitation facilities" - defined as ones that "hygienically separate human excreta from human contact", down only 7 percent since 1990, when 2.7 billion lacked access, and more than a billion people - most of whom live in rural areas - have to defecate in gutters, behind bushes or into water. More people have access to mobile phones than toilets, it says.


Is there an app for "improved sanitation facilities"?

[Read more stories about: health impacts, pandemic]

[Permalink]
[Add your own quips!]


[Recovery]: from Earth Policy Institute, Thu Aug 28 2014:
Geothermal Power Approaches 12,000 Megawatts Worldwide
In 2013, world geothermal electricity-generating capacity grew 3 percent to top 11,700 megawatts across 24 countries. Although some other renewable energy technologies are seeing much faster growth -- wind power has expanded 21 percent per year since 2008, for example, while solar power has grown at a blistering 53 percent annual rate -- this was geothermal's best year since the 2007-08 financial crisis.


"Blistering" for solar? Has wind power grown at a "decapitating" rate?

[Read more stories about: climate impacts, renewable energy]

[Permalink]
[Add your own quips!]


[Climate Chaos]: from Climate Progress, Thu Aug 28 2014:
Climate Scientists Spell Out Stark Danger And Immorality Of Inaction In New Leaked Report
One word in the latest draft report from the UN Intergovernmental Panel on Climate Change (IPCC) sums up why climate inaction is so uniquely immoral: "Irreversible." The message from climate scientists about our ongoing failure to cut carbon pollution: The catastrophic changes in climate that we are voluntarily choosing to impose on our children and grandchildren -- and countless generations after them -- cannot plausibly be undone for hundreds of years or more. Yes, we can still stop the worst -- with virtually no impact on growth, as an earlier IPCC report from April made clear -- but future generations will not be able reverse whatever we are too greedy and shortsighted to prevent through immediate action.


It's time to create the magic silver bullet wand.

[Read more stories about: anthropogenic change, climate impacts, holyshit]

[Permalink]
[Add your own quips!]


[Biology Breach]: from Daily Kos , Thu Aug 28 2014:
Fire retardant chems, cancer, health problems
In a reckless, "hope-for-the-best" approach that puts us all at risk, U.S. policy allows the release of synthetic chemicals into the environment--before their potentially devastating impacts have been adequately evaluated. Multiple Senate bills to fix this toxic system over the past decade have been snuffed out. On July 24, 2014, U.S. Senator Jeff Merkley (D-OR) introduced a bill, the "Protecting American Families from Toxic Chemicals Act" (S. 2656), which would ban a number of "persistent, bioaccumulative, and toxic" synthetic chemicals such as brominated fire (or flame) retardants (BFRs).... BFRs enter our bodies mainly when we inhale or swallow dust. Various BFRs have been linked to cancer, thyroid disruption, memory and learning problems, delayed mental and physical development, lower IQ, early puberty, and reduced fertility. Ironically, BFRs start "fires" in our bodies by causing inflammation.


BFRs: Big Effing Retardant!

[Read more stories about: flame retardants, toxic buildup, bad policy, governmental idiocy]

[Permalink]
[Add your own quips!]


[Resource Depletion]: from Sydney Morning Herald, Wed Aug 27 2014:
Climate change may disrupt global food system within a decade, World Bank says
"The challenges from waste to warming, spurred on by a growing population with a rising middle-class hunger for meat, are leading us down a dangerous path," Professor Kyte told the Crawford Fund 2014 annual conference in Canberra on Wednesday. "Unless we chart a new course, we will find ourselves staring volatility and disruption in the food system in the face, not in 2050, not in 2040, but potentially within the next decade," she said, according to her prepared speech.


If we "chart a new course" then... what happens to the "old course"?

[Read more stories about: holyshit, faster than expected, food crisis]

[Permalink]
[Add your own quips!]


[Biology Breach]: from Reuters, Wed Aug 27 2014:
China police seize 30,000 tonnes of tainted chicken feet
Chinese police have seized over 30,000 tonnes of tainted chicken feet, common on restaurant menus in China, in the latest food scandal to hit the country. Authorities have detained 38 people involved in the sale of the chicken feet in provinces including the eastern province of Zhejiang, the official Xinhua news agency reported on Tuesday. The arrests followed raids on nine supplier factories in nearby Jiangsu, Anhui, Henan and Guangdong provinces, Xinhua said, adding police found that excess hydrogen peroxide was being added to the meat.


Thankfully, the gizzards were pristine.

[Read more stories about: food safety]

[Permalink]
[Add your own quips!]


[Climate Chaos]: from USA Today, Tue Aug 26 2014:
Ken Burns: Glacier National Park in trouble
If you're interested in seeing the namesake glaciers of Glacier National Park, Ken Burns has a piece of advice: hurry. "The great sadness of Glacier National Park is that it's probably going to be true that fairly soon, we're going to call it 'The National Park Formerly Known as Glacier'," Burns says. With current global warming trends, the United States Geological Survey warns that Glacier National Park's glaciers could disappear within the next several decades.


At least the Rocky Mountains will always be comprised of rocks.

[Read more stories about: global warming, melting glaciers]

[Permalink]
[Add your own quips!]


[Biology Breach]: from Washington Post, Tue Aug 26 2014:
Jellyfish swarm takes over Florida beaches, stinging hundreds
They don't get the same attention as shark attacks (or even great white sightings), but jellyfish ruin far more weekends, descending on beaches like water-bound locusts. The latest example came in the waters along Daytona Beach and New Smyrna Beach. This past weekend, more than 400 swimmers were stung by jellyfish at the Florida beaches, according to Reuters. The swarm of serial stingers prompted lifeguards to raise purple flags warning of hazardous marine life.


Surf's up. Run away!

[Read more stories about: jellyfish]

[Permalink]
[Add your own quips!]


[Biology Breach]: from South China Morning Post, Mon Aug 25 2014:
Toxic alert as Hong Kong suffers highest number of red tides in 26 years
The city has been hit by the worst six months of red tides in 26 years, with the highest number of potentially harmful algae species recorded, analysis by the Post has revealed. Scientific experts said the algal blooms might indicate that pollution is increasing and climate patterns shifting. They would not rule out the possibility that a lethal red tide - that can kill off marine life en masse - could strike soon, although these are almost impossible to forecast.


There was a time when a red tide would have been a marketing coup.

[Read more stories about: algal bloom]

[Permalink]
[Add your own quips!]


[Recovery]: from The Independent (UK), Sun Aug 24 2014:
Government facing four challenges in bid to tackle climate change, think-tank claims
The IPPR says the Government needs to address four challenges to tackle climate change: the consumer challenge, in overcoming soaring fuel bills and tackling fuel poverty; the capacity challenge, in investing in more decentralised energy generation; the regional challenge, where the economy is recovering at a national level but less so in the regions; and the international challenge, where the EU has "lost its leadership position on climate change" while the US and China have taken steps to clean up their economies. It states: "To date, there has been a large degree of political consensus on the necessity of tackling climate change. Both the Climate Change Act (2008), which set binding targets to cut emissions by 80 per cent against a 1990 baseline by 2050, and the Energy Act (2013), which put in place government policies to encourage investment in low-carbon technologies, received royal assent with cross-party support. "However, these Acts have also had the effect of allowing politicians to avoid confronting the public with some of the trade-offs associated with taking stronger action now to avoid greater costs in the future.


Thank Mammon they managed to avoid mentioning "the steady-state economy" challenge, or the "corporate pressure to maintain profitable status quo" challenge.

[Read more stories about: corporate malfeasance, smart policy]

[Permalink]
[Add your own quips!]


[Climate Chaos]: from Climate Central, Fri Aug 22 2014:
Epic Drought in West is Literally Moving Mountains
Climate change is driving the Greenland Ice Sheet to melt, which is contributing to sea level rise. But imagine that the same amount of water melting from Greenland each year is being lost in California and the rest of the West because of the epic drought there. What happens? The land in the West begins to rise. In fact, some parts of California's mountains have been uplifted as much as 15 millimeters (about 0.6 inches) in the past 18 months because the massive amount of water lost in the drought is no longer weighing down the land, causing it to rise a bit like an uncoiled spring, a new study shows.


In the post-apocalypse, the mountains will ascend into the sky.

[Read more stories about: drought, global warming, ecosystem interrelationships]

[Permalink]
[Add your own quips!]


[Resource Depletion]: from Mother Nature Network, Fri Aug 22 2014:
California's drought? 'Normal' versus 'now' in pix
Situated at the foot of the Sierra Nevadas in Butte County, Lake Oroville is one of the largest reservoirs in California, second only to Shasta Lake. After enduring three straight years of drought, the lake is currently only filled to 32 percent of its capacity.... To get a better idea of the dire situation in the Golden State, continue below for a photo comparison of water levels taken in 2011 and 2014, looking at Lake Oroville and Folsom Lake, another major California reservoir located in Sacramento County that is now filled at 40 percent of its capacity.


I think I need to reassess my late-summer frolic plans.

[Read more stories about: drought, water issues]

[Permalink]
[Add your own quips!]


[Climate Chaos]: from Grist, Thu Aug 21 2014:
Meet the climate deniers who want to be president
The Republican Party of 2008 was a big enough tent to include people who admitted demonstrable problems existed and supported free-market-oriented solutions. Not anymore. The rise of the Tea Party movement and the rightward shift of the Republican base and the politicians who pander to it put an end to all that. Whoever is the Republican nominee for president in 2016, it's a safe bet that he - and yes, it will be a he, as all the leading contenders are male - will oppose taking any action on climate change. Chances are that he won't even admit it exists. The Republicans basically fall into four categories: (1) Flat-Earthers, who deny the existence of manmade climate change; (2) Born-Again Flat-Earthers, who do the same, but who had admitted climate change exists back before President Obama took office; (3) Do-Nothings, who sort of admit the reality of climate change but oppose actually taking any steps to prevent it; and (4) Dodgers, who have avoided saying whether they believe climate change is happening, and who also don't want to take any steps to alleviate it. Louisiana Gov. Bobby Jindal and Wisconsin Gov. Scott Walker fall into the latter category. The Do-Nothings are blue and purple state governors, Chris Christie of New Jersey and John Kasich of Ohio....


Who needs science? Surf's up!

[Read more stories about: deniers, stupid humans]

[Permalink]
[Add your own quips!]


[Recovery]: from CNET, Wed Aug 20 2014:
Microsoft aims to be greener and drops ALEC membership
Microsoft announced Tuesday that it's cutting ties with the American Legislative Exchange Council, a conservative public-policy lobbying group. It appears this decision was made due to ALEC's lobbing efforts to block the development of renewable energy. Microsoft had previously been a member of ALEC's Communications and Technology Task Force. In a statement, the company said it has halted all participation in this group.... Microsoft's decision comes on the heels of other major corporations dropping membership with ALEC, including Coca-Cola, General Motors, Bank of America, and Proctor & Gamble. Microsoft co-founder Bill Gates stopped financially supporting ALEC in 2012.


Poor little ALEC, soon he'll be all alone.

[Read more stories about: renewable energy, corporate malfeasance, corporate goodness]

[Permalink]
[Add your own quips!]


[Resource Depletion]: from The Conversation, via TruthOut, Wed Aug 20 2014:
The Way the Wind Blows May Not Be Enough to Prevent Ocean "Dead Zones" From Growing
The world's oceans are plagued with the problem of "dead zones", areas of high nutrients (such as nitrogen and phosphorus) in which plankton blooms cause a major reduction of oxygen levels in the water. Sea creatures need oxygen to breathe just as we do, and if oxygen levels fall low enough marine animals can suffocate. This commonly happens around coastlines where fertilisers are washed from fields into rivers and the sea, but also mid-ocean, where currents trap waters in gyres (large systems of rotating ocean currents). To date most studies have shown that these dead zones have been growing with global warming. But a recent study published in Science by Curtis Deutsch and colleagues suggests that the ocean's largest anoxic zone - where there has been a total depletion of oxygen - in the eastern tropical North Pacific, may in fact shrink due to weakening trade winds caused by global warming.... Warming also encourages water stratification, where the water separates into layers based on temperature or salinity, creating a physical barrier that prevents oxygen reaching deeper waters. Previous studies have predicted a weakening of trade winds in tropical areas, but have also forecasted changes to low-pressure weather fronts over coastlines that would lead to stronger winds, sufficient to replace any upwelling effect lost by weaker trade winds.


Well, generally, caloric upwelling is 'generally well' and well displayed (but alas not comprehensive). Next question?

[Read more stories about: dead zones, faster than expected, toxic water]

[Permalink]
[Add your own quips!]


[Climate Chaos]: from Ecowatch, Tue Aug 19 2014:
July Ocean Temperature Hits Record High--Again
Last month, Earth's ocean surfaces tied the previous record for the hottest July during the 130 years the U.S. government has been compiling data. The National Climatic Data ...

Don't miss: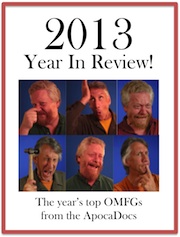 ---
Apoc-o-Meter
from the last 7 days


or visit our: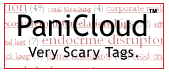 ---
"Perfect as a bathroom reader."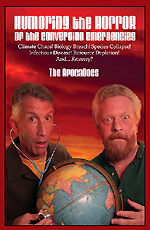 Humoring the Horror of the
Converging Emergencies
94 color pages
$24.99 now $15!
Or read FREE online!

---
Play: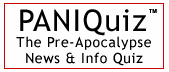 It's weekly, funny, and free!


Random Sample PANIQuestion:
To what did climatologist James Hansen compare CEOs of fossil fuel companies?
a) To Jeffrey Dahmer.
b) To the heads of tobacco companies.
c) To bloodsucking leeches.
d) To Genghis Khan.
e) To flat-earthers.

Answer: To the heads of tobacco companies.

---