[Climate Chaos]: from Politico, Mon Dec 15 2014:
How the 'War on Coal' went global
Congressional Republicans who vow to defeat President Barack Obama's "War on Coal" can do little to defend the industry against a growing international threat -- the drying up of its once-promising markets overseas. Just a few years ago, domestic producers had high hopes for selling coal to energy-hungry Asia, but prices in those markets are plummeting now amid slowing demand and oversupply, ceding much of the market space to cheaper coal from nations like Indonesia and Australia. Meanwhile, a lot of U.S. coal can't even get out of the country, thanks to greens' success in blocking proposed export terminals in Washington state and Oregon. And China, the world's most voracious coal customer, just pledged to cap its use of the fuel and is promising to curb its greenhouse gas pollution.


War on Coal = Peace on Earth

[Read more stories about: carbon emissions, climate impacts, coal issues]

[Permalink]
[Add your own quips!]


[Recovery]: from Marketplace, Mon Dec 15 2014:
Growing Styrofoam out of mushrooms
In a college dorm room, under a twin XL bed, a company was born. Ecovative, a biodesign company based in Albany, NY, began as a science project for Gavin McIntyre and Eben Bayer -- they grew oyster mushrooms under their beds, in the hopes of using them to recycle farm waste, and eventually, create an alternative to soft plastics, like Styrofoam. The experiment worked. Using the roots of mushrooms, Ecovative turns agricultural waste into packing materials, insulation, and even surfboards. Their products replace harmful, carcinogenic plastics found in Styrofoam and in furniture made from wood composite. Their products are all biodegradable, compostable, and sustainable.


And the 'shrooms shall inherit the earth.

[Read more stories about: sustainability]

[Permalink]
[Add your own quips!]


[Recovery]: from The Independent (UK), Sat Dec 13 2014:
New era of cheap oil 'will destroy green revolution'
The collapsing oil price that is reshaping the global economy could derail the green energy revolution by making renewable power sources prohibitively bad value, experts have warned. Oil tumbled below $60 a barrel for the first time in more than five years yesterday - a fall of 44 per cent since June. It is forecast to fall further. A new "era of cheap oil" would be good news for consumers and motorists - but analysts say the consequences for politics, industry and the climate could be even more radical. The ripple effects could help the Conservatives to remain in power at next year's general election by making voters feel richer as bills fall - while hurting Scotland's oil-reliant economy and setting back its campaign for independence.


Let's rethink ourselves, and rethink that again.

[Read more stories about: economic myopia, oil issues]

[Permalink]
[Add your own quips!]


[Climate Chaos]: from Climate Progress, Fri Dec 12 2014:
Top Scientists To Media: Stop Using 'Skeptic' To Describe Climate Science Deniers
Four dozen leading scientists and science journalists/communicators have issued a statement urging the media to "Please stop using the word 'skeptic' to describe deniers" of climate science.... "Proper skepticism promotes scientific inquiry, critical investigation, and the use of reason in examining controversial and extraordinary claims," the letter reads. "It is foundational to the scientific method. Denial, on the other hand, is the a priori rejection of ideas without objective consideration."


How about we call deniers "rejects."

[Read more stories about: deniers]

[Permalink]
[Add your own quips!]


[Biology Breach]: from Climate Progress, Fri Dec 12 2014:
The Ocean Now Has At Least 700 Pieces Of Plastic Per Person On Earth
A study published on Wednesday estimates that the ocean contains over 260,000 tons, or 5.25 trillion pieces, of plastic. The study found that the amount of microplastics, pieces of plastic that are less than half a centimeter, found on the ocean's surface were much smaller than expected.... Over 90 percent of the searches that the study did contained plastic, and polystyrene made up most of the plastics found. One of the researchers said that in some areas with larger amounts of debris, there was more plastic in the water than living creatures.


Planet Polystyrene

[Read more stories about: contamination, plastic gyre]

[Permalink]
[Add your own quips!]


[Recovery]: from Midwest Energy News, Fri Dec 12 2014:
Minnesota will 'get the ball rolling' on community solar today
Expectations are high today as Minnesota's largest utility begins accepting applications for community solar projects at 9 a.m. today. It's anyone guess show many solar garden developers will submit on the first day of business for Xcel Energy's Solar Rewards Community program. Some developers have already marketed and sold out projects that have been not formally approved... Community gardens allow customers to buy panels or subscriptions from developers who manage and operate the systems. Customers can buy up to 120 percent of their energy needs, or as little as one panel. They receive a credit on their utility bills based on the output of their panels.


We're harvesting the sun in these gardens.

[Read more stories about: climate impacts, renewable energy, smart policy]

[Permalink]
[Add your own quips!]


[Climate Chaos]: from NBC News, Fri Dec 12 2014:
2014 Boils Toward Warmest Year Ever with Three More Records Broken
Even if it's freezing in your personal universe, Earth as a whole just broke three "warmest" records and is likely to see 2014 go down as the warmest since record keeping began in 1880, scientists reported Thursday. Driven by record warm oceans, combined sea and land temperatures in October were the warmest on record, according to data released by the National Oceanic and Atmospheric Administration. On top of that, January-October was the warmest first 10 calendar months, while November 2013 to October 2014 was the warmest 12-month block.


Some days ... you just don't want to get out of bed for fear what you'll find.

[Read more stories about: anthropogenic change, carbon emissions, death spiral, global warming, holyshit]

[Permalink]
[Add your own quips!]


[Climate Chaos]: from Associated Press, Wed Dec 10 2014:
As US cleans up, it's exporting more pollution
Heat-trapping pollution released into the atmosphere from rising exports of U.S. gasoline and diesel dwarfs the cuts made from fuel efficiency standards and other efforts to reduce global warming in the United States, according to a new Associated Press investigation. Under President Barack Obama, the U.S. has reduced more carbon pollution from energy than any other nation, about 475 million tons between 2008 and 2013, according to U.S. Energy Department data. Less than one-fifth of that amount came from burning less gasoline and diesel fuel. Yet the U.S. is sending more fuel than ever to other parts of the world, where efforts to address resulting pollution are just getting underway, if advancing at all. U.S. exports of gasoline and diesel released roughly 1 billion tons of carbon pollution into the atmosphere elsewhere during the same period, according to AP's analysis. This fossil fuel trade has helped President Barack Obama meet political goals to curb carbon dioxide at home, by taking it off America's pollution balance sheet. But that does not necessarily help the planet.


This is one of those good news/apocalyptic news type scenarios.

[Read more stories about: anthropogenic change, carbon emissions, death spiral, economic myopia, governmental idiocy, health impacts, global warming]

[Permalink]
[Add your own quips!]


[Recovery]: from London Independent, Wed Dec 10 2014:
Organic farming can feed the world if done right, scientists claim
Organic farming is much more productive than previously thought, according to a new analysis of agricultural studies that challenges the conventional "biased" view that pesticide-free agriculture cannot feed the world. The study says that organic yields were only 19.2 per cent lower, on average, than those from conventional crops and that this gap could be reduced to just eight per cent if the pesticide-free crops were rotated more frequently. Furthermore, in some crops - especially leguminous plants such as beans, peas and lentils - there were no significant differences in yields, the researchers from the University of California, Berkeley found.


I don't need any Berkeley eggheads stating the obvious.

[Read more stories about: food crisis, smart policy, carbon emissions, health impacts, pesticide runoff]

[Permalink]
[Add your own quips!]


[Plague/Virus]: from Reuters, Wed Dec 10 2014:
Big U.S. school districts plan switch to antibiotic-free chicken
Six of the largest U.S. school districts are switching to antibiotic-free chicken, officials said on Tuesday, pressuring the world's top meat companies to adjust production practices in the latest push against drugs used on farms. The move by districts in New York City, Los Angeles, Chicago, Dallas, Miami-Dade County and Orlando County is intended to protect children's health amid concerns about the rise of so-called "superbugs," bacteria that gain resistance to conventional medicines, school officials said. However, the change may raise costs for schools because bird mortality rates are typically higher in flocks raised without antibiotics. The six districts, which served at least 2.6 million meals last year, hope to limit costs by combining their purchasing power, officials said.


This is your brain ... and this is your brain on superbugs.

[Read more stories about: smart policy, corporate farming, health impacts]

[Permalink]
[Add your own quips!]


[Climate Chaos]: from Reuters, via HuffingtonPost, Wed Dec 10 2014:
Abandoned U.S. Oil Wells Still Spewing Methane, Study Finds
Some of the millions of abandoned oil and natural gas wells in the United States are still spewing methane, marking a potentially large source of unrecorded greenhouse gas emissions, according to a study released on Monday. Researchers at Princeton University measured emissions from dozens of abandoned wells in Pennsylvania in 2013 and 2014 and found they were emitting an average of 0.27 kg (0.6 lbs) of methane per day, according to the study published in the Proceedings of the National Academy of Sciences. "These measurements show that methane emissions from abandoned oil and gas wells can be significant," according to the study. "The research required to quantify these emissions nationally should be undertaken so they can be accurately described and included in greenhouse gas emissions inventories."


Should the land, I don't know, scab over or something?

[Read more stories about: airborne pollutants, methane release, oil issues, death spiral]

[Permalink]
[Add your own quips!]


[Climate Chaos]: from Climate Central, Mon Dec 8 2014:
Low Oil Prices May Bode Ill For Climate
Climate change and falling crude oil prices coalesce at the gas pump. Filling the gas tank of a Hummer for $2.18 per gallon in Texas or $2.39 per gallon in New Jersey when a year ago those prices were as much as 75 cents higher means that it's likely people will drive more, burning more gasoline and spewing more CO2 into the atmosphere, experts say.... But since the cost of gasoline fell as crude oil prices began falling earlier this year, gasoline consumption has increased by about 15 percent since January, according to the U.S. Energy Information Administration.


Hummer and Hummer to

[Read more stories about: carbon emissions, economic myopia, stupid humans]

[Permalink]
[Add your own quips!]


[Climate Chaos]: from New York Times, Mon Dec 8 2014:
Energy Firms in Secretive Alliance With Attorneys General
...Attorneys general in at least a dozen states are working with energy companies and other corporate interests, which in turn are providing them with record amounts of money for their political campaigns, including at least $16 million this year. They share a common philosophy about the reach of the federal government, but the companies also have billions of dollars at stake. And the collaboration is likely to grow: For the first time in modern American history, Republicans in January will control a majority -- 27 -- of attorneys general's offices.


You scratch my malfeasant back I'll scratch yours.

[Read more stories about: carbon emissions, capitalist greed, governmental corruption]

[Permalink]
[Add your own quips!]


[Resource Depletion]: from Reuters, via DesdemonaDespair, Fri Dec 5 2014:
São Paulo taps emergency water reserves which may last for two months - 'If it doesn't rain, we won't have an alternative but to get water from the mud'
São Paulo, Brazil's drought-hit megacity of 20 million, has about two months of guaranteed water supply remaining as it taps into the second of three emergency reserves, officials say. The city began using its second so-called "technical reserve" 10 days ago to prevent a water crisis after reservoirs reached critically low levels last month. This is the first time the state has resorted to using the reserves, experts say.... Brazil's southeast region is suffering its worst drought in at least 80 years after an unusually dry year left rivers and reservoirs at critically low levels.


Twenty million people without showers is an aesthetic nightmare!

[Read more stories about: drought, climate impacts, water issues, holyshit]

[Permalink]
[Add your own quips!]


[Plague/Virus]: from Salon, Fri Dec 5 2014:
The post-antibiotic future is here: Chilling report highlights the reality of a global crisis
In India, that future is already here. The New York Times has a distressing report on the epidemic of antibiotic resistant "superbugs" killing the country's newborns by the tens of thousands: "Five years ago, we almost never saw these kinds of infections," said Dr. Neelam Kler, chairwoman of the department of neonatology at New Delhi's Sir Ganga Ram Hospital, one of India's most prestigious private hospitals. "Now, close to 100 percent of the babies referred to us have multidrug resistant infections. It's scary." These babies are part of a disquieting outbreak. A growing chorus of researchers say the evidence is now overwhelming that a significant share of the bacteria present in India -- in its water, sewage, animals, soil and even its mothers -- are immune to nearly all antibiotics.


We can't even call them "anti"biotics anymore!

[Read more stories about: superbugs, antibiotic resistance]

[Permalink]
[Add your own quips!]


[Species Collapse]: from , Thu Dec 4 2014:
Food diversity at risk
... But fewer people have heard about another ongoing mass extinction that involves the foods that we eat. More than 75 percent of the fruit and vegetable varieties that humans once consumed have already gone the way of the wooly mammoth and the saber-toothed tiger, according to the UN's Food and Agriculture Organization. And half of all domesticated animal breeds have been lost in roughly the past century. Apple historian Dan Bussey says that of the 20,000 named apple varieties that have been cultivated in North America, only 4,000 remain. Thousands of varieties of rice once flourished in the Philippines. Today, less than 100 varieties survive. And similar numbers could be cited for virtually all of our food crops. This massive loss of diversity is - you guessed it - the result of the rapid spread of industrial agriculture and the increasing standardization of the food industry, where unconventional varieties have been squeezed off of supermarket shelves.


A farmer's gotta eat.

[Read more stories about: corporate farming, economic myopia]

[Permalink]
[Add your own quips!]


[Climate Chaos]: from CNN, Tue Dec 2 2014:
NOAA: 2014 is shaping up as hottest year on record
The first ten months of 2014 have been the hottest since record keeping began more than 130 years ago, according to data from the National Oceanic and Atmospheric Administration. That may be hard to believe for people in places like Buffalo, New York, which saw a record early snowfall this year. But NOAA says, despite the early bitter cold across parts of the United States in recent weeks, it's been a hot year so far for the Earth. With two months left on the calendar, 2014 is shaping up to be the hottest year on record.


Are you saying it's NOT all about the United States?

[Read more stories about: global warming, holyshit]

[Permalink]
[Add your own quips!]


[Resource Depletion]: from Cincinnati Enquirer, Tue Dec 2 2014:
Runners plunder snacks at Thanksgiving charity race in Cincinnati
... After running 10 kilometers, participants are greeted with energy bars, granola bars, yogurt, bagels, fruit and more. There's always enough to go around from first finisher to the last. In fact, there's often so much that the extras are packed up and donated to the Freestore Foodbank. Not this year.... Early finishers of the Thanksgiving Day Race on Thursday wanted more of the post-race snacks than their hands and arms could hold.... After the plundering of the post-race snack zone, many finishers fled as fast as they finished...."All that was left was liquid," Isphording said. "There wasn't any food left for the walkers."


Black Thursday

[Read more stories about: koyaanisqatsi]

[Permalink]
[Add your own quips!]


[Climate Chaos]: from BBC, Wed Nov 26 2014:
Geo-engineering: Climate fixes 'could harm billions'
Schemes to tackle climate change could prove disastrous for billions of people, but might be required for the good of the planet, scientists say... More alarming for the researchers ...

Don't miss: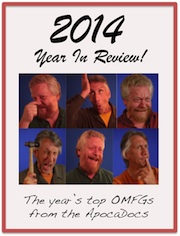 ---
Apoc-o-Meter
from the last 7 days


or visit our: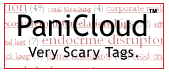 ---
"Perfect as a bathroom reader."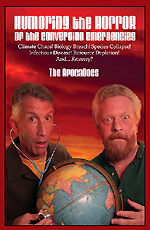 Humoring the Horror of the
Converging Emergencies
94 color pages
$24.99 now $15!
Or read FREE online!

---
Play: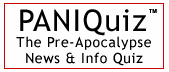 It's weekly, funny, and free!


Random Sample PANIQuestion:
What is the rising sea doing to the Ganges in India?
a) All of these answers are correct.
b) Disrupting the ecosystem.
c) Salinising it.
d) Increasing growth of mangrove plants.
e) Making farmlands barren.

Answer: All of these answers are correct.

---