[Climate Chaos]: from Dartmouth College, Sat Dec 7 2013:
More Logging, Deforestation May Better Serve Climate in Some Areas
... The findings suggest more frequent logging or deforestation may better serve our planet and pocketbooks in high latitude areas where snowfall is common and timber productivity is low. Such a scenario could involve including snow cover/albedo in existing greenhouse gas exchanges like the Kyoto protocol or a cap-and-trade program or ecosystem services market in which landowners are paid to maintain snow cover and produce timber rather than conserve forests and store carbon. Previous studies have put a price on many ecosystem services -- or services that nature provides to humans that have both economic and biological value, such as drinking water and crop pollination -- but the Dartmouth study is the first to do so for albedo, or the surface reflection of incoming solar energy. The findings contrast with the dominant paradigm that including forest climate mitigation services such as carbon storage on compliance markets will lead to the conservation of forests. Instead, the findings show that in some areas, it is better to have snow act as a natural mirror if you want to use forests for climate-related purposes.


Let's call it albedough.

[Read more stories about: anthropogenic change, climate impacts, deforestation, geoengineering, albedo effect]

[Care to Quip?]


[Biology Breach]: from Environmental Health News, Thu Dec 5 2013:
New report: Unregulated contaminants common in drinking water
Traces of 18 unregulated chemicals were found in drinking water from more than one-third of U.S. water utilities in a nationwide sampling, according to new, unpublished research by federal scientists. Included are 11 perfluorinated compounds, an herbicide, two solvents, caffeine, an antibacterial compound, a metal and an antidepressant. "The good news is the concentrations are generally pretty low," said Dana Kolpin, a research hydrologist with the USGS who participated in the study. "But," he added, "there's still the unknown. Are there long-term consequences of low-level exposure to these chemicals?"


Isn't it wonderful to be experimented on every day?

[Read more stories about: contamination, health impacts, toxic water]

[Care to Quip?]


[Climate Chaos]: from BBC, Thu Dec 5 2013:
Meet the US Army's hybrid hellion
A fuel-efficient, lightweight hybrid vehicle that could keep soldiers safe? It might sound like mission impossible, but such a machine is already roaming the earth -- albeit on a tight leash....it's a fuel-efficient hybrid vehicle, its rear-mounted lithium-iron phosphate battery charged by a 175-horsepower Subaru turbodiesel boxer engine. And although it is smaller and lighter than other similar Army vehicles, such as the long-serving Humvee, it still offers vanguard blast-mitigation and survivability features.


Next thing you know, soldiers will be drinking iced lattes.

[Read more stories about: climate impacts, efficiency increase, smart policy]

[Care to Quip?]


[Species Collapse]: from Science Daily, Thu Dec 5 2013:
Rising Ocean Acidification Leads to Anxiety in Fish
A new research study combining marine physiology, neuroscience, pharmacology, and behavioral psychology has revealed a surprising outcome from increases of carbon dioxide uptake in the oceans: anxious fish. A growing base of scientific evidence has shown that the absorption of human-produced carbon dioxide into the world's oceans is causing surface waters to decline in pH, causing a rise in acidity. This ocean acidification is known to disrupt the growth of shells and skeletons of certain marine animals but other consequences such as behavioral impacts have been largely unknown.... The researchers say the anxiety is traced to the fish's sensory systems, and specifically "GABAA" (neural gamma-aminobutyric acid type A) receptors, which are also involved in human anxiety levels. Exposure to acidified water leads to changes in the concentrations of ions in the blood (especially chloride and bicarbonate), which reverses the flux of ions through the GABAA receptors. The end result is a change in neuronal activity that is reflected in the altered behavioral responses described in this study.


Update: Rising Ocean Acidification Leads to Anxiety in Humans

[Read more stories about: ecosystem interrelationships, ocean acidification]

[Care to Quip?]


[Recovery]: from The Nation, Thu Dec 5 2013:
The Pope Versus Unfettered Capitalism
Condemning the "new tyranny" of unfettered capitalism and the "idolatry of money," Pope Francis argues in a newly circulated apostolic exhortation that "as long as the problems of the poor are not radically resolved by rejecting the absolute autonomy of markets and financial speculation and by attacking the structural causes of inequality, no solution will be found for the world's problems or, for that matter, to any problems."... "Such an economy kills," he explains. "How can it be that it is not a news item when an elderly homeless person dies of exposure, but it is news when the stock market loses two points? This is a case of exclusion. Can we continue to stand by when food is thrown away while people are starving? This is a case of inequality. Today everything comes under the laws of competition and the survival of the fittest, where the powerful feed upon the powerless. As a consequence, masses of people find themselves excluded and marginalized: without work, without possibilities, without any means of escape."


What is he, some kind of religious zealot?

[Read more stories about: smart policy, poverty]

[Care to Quip?]


[Species Collapse]: from PLoS One, Wed Dec 4 2013:
Pesticides + Fungicides = Weak in the Bees
Pesticide exposure and pathogens may interact to have strong negative effects on managed honey bee colonies. Such findings are of great concern given the large numbers and high levels of pesticides found in honey bee colonies. Thus it is crucial to determine how field-relevant combinations and loads of pesticides affect bee health.... We detected 35 different pesticides in the sampled pollen, and found high fungicide loads. The insecticides esfenvalerate and phosmet were at a concentration higher than their median lethal dose in at least one pollen sample. While fungicides are typically seen as fairly safe for honey bees, we found an increased probability of Nosema infection in bees that consumed pollen with a higher fungicide load. Our results highlight a need for research on sub-lethal effects of fungicides and other chemicals that bees placed in an agricultural setting are exposed to.


It's as if toxin + toxin = toxin2.

[Read more stories about: pesticide runoff, toxic buildup, weakened immunity]

[Care to Quip?]


[Climate Chaos]: from Climate News Network, Wed Dec 4 2013:
James Hansen: 2C Temperature Rise Would Be "Disastrous"
Governments have set the wrong target to limit climate change. The goal at present -- to limit global warming to a maximum of two degree Celsius higher than the average for most of human history -- "would have consequences that can be described as disastrous," say 18 scientists in a review paper in the journal PLOS One. With a two degree Celsius increase, "sea level rise of several meters could be expected," they say. "Increased climate extremes, already apparent at 0.8 degrees Celsuis warming, would be more severe. Coral reefs and associated species, already stressed with current conditions, would be decimated by increased acidification, temperature and sea level rise.... Warming of one degree Celsius relative to 1880 -- 1920 keeps global temperature close to the Holocene range, but warming of two degree Celsius, could cause "major dislocations for civilization."


Take two aspirin, go to bed and don't get up!

[Read more stories about: anthropogenic change, climate impacts, health impacts, global warming, holyshit]

[Care to Quip?]


[Biology Breach]: from London Guardian, Wed Dec 4 2013:
Mounting microplastic pollution harms 'earthworms of the sea' -- report
Tiny bits of plastic rubbish ingested by marine worms is significantly harming their health and will have wider impact on ocean ecosystems, scientists have found. Microplastic particles, measuring less than 5mm in size, have been accumulating in the oceans since the 1960s and are now the most abundant form of solid-waste pollution on Earth... Using the lugworm as an indicator species, the first study, from the University of Exeter, found that worms feeding in highly contaminated ocean sediment ate less and had lower energy levels. The second study, from Plymouth University, has established for the first time that ingesting microplastics can transfer pollutants and additives to worms, reducing health and biodiversity.


Ingesting plastic makes me invincible!

[Read more stories about: contamination, health impacts, plastic gyre, plastic problems, toxic water]

[Care to Quip?]


[Recovery]: from Politico, Mon Dec 2 2013:
A green movement of all stripes
In Appalachia, greens are banding together with the Tennessee Conservative Union to oppose mountaintop mining. In Georgia, the Sierra Club and Atlanta's tea party have formed ...


[Biology Breach]: from Politico, Mon Dec 2 2013:
The $38 billion nuclear waste fiasco
Doing nothing often has a cost -- and when it comes to storing the nation's nuclear waste, the price is $38 billion and rising. That's just the lowball estimate for how ...


[Biology Breach]: from On Earth, Tue Nov 26 2013:
Generation Toxic
We've known for years that lead seriously impairs early childhood development. Now scientists are finding that our kids' brains are at risk from a barrage of other common ...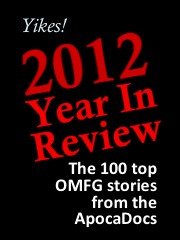 ---
Apoc-o-Meter
from the last 7 days


or visit our: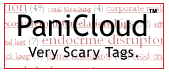 ---
"Perfect as a bathroom reader."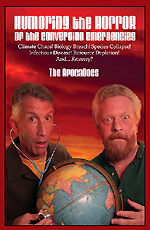 Humoring the Horror of the
Converging Emergencies
94 color pages
$24.99 now $15!
Or read FREE online!

---
Play: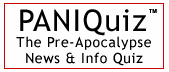 It's weekly, funny, and free!


Random Sample PANIQuestion:
What does a new study say about the economic importance of bats in North America?
a) Around $10 billion a year.
b) It would actually BENEFIT the economy if they died off.
c) Inestimable.
d) Roughly $22.9 billion a year.
e) Baseball is my least favorite sport. Too slow!

Answer: Roughly $22.9 billion a year.

---
The ApocaDocs try to make fun of the horror of environmental collapse by locating a handful of news items every day, and giving each a punchline. The stories are categorized into five main topics: Species Collapse (ecosystem interrelationships, invasive species, the sixth extinction, pesticide effects, and more); Resource Depletion (peak oil, peak phosphorus, overfishing, topsoil loss, aquifer declines, and more); Biology Breach (toxic runoff, radiation, GMOs, pharmwater, contamination, and idle destruction); Climate Chaos (global warming, weather extremes, ocean warming, and more); and Infectious Disease (pandemics, viruses, antibiotic resistance). To avoid deep depression, we also include stories of Recovery (alternative energy, innovations, species restoration, better policies, social change, and the like). For more information, see About The ApocaDocs.