[Species Collapse]: from University of Exeter, via EurekAlert, Thu Oct 2 2014:
Study shows sharks have personalities
Some sharks are 'gregarious' and have strong social connections, whilst others are more solitary and prefer to remain inconspicuous, according to a new study which is the first to show that the notorious predators have personality traits. Personalities are known to exist in many animals, but are usually defined by individual characteristics such as how exploratory, bold or aggressive an individual is. Research led by the University of Exeter and the Marine Biological Association of the UK (MBA) has shown for the first time that individual sharks actually possess social personalities, which determine how they might interact with group mates in the wild.


I thought it was only nice things that we slaughtered that had personalities -- y'know, like dolphins and whales.

[Read more stories about: hunting to extinction, overfishing, rights of nature]

[Permalink]
[Add your own quips!]


[Species Collapse]: from AP, via Globe and Mail, Thu Oct 2 2014:
Sea-ice shortage sends tens of thousands of walruses swarming Alaska beach
Pacific walruses that can't find sea ice for resting in Arctic waters are coming ashore in record numbers on a beach in northwest Alaska. An estimated 35,000 walruses were photographed Saturday about eight kilometres north of Point Lay, according to the National Oceanic and Atmospheric Administration.... Pacific walruses spend winters in the Bering Sea. Females give birth on sea ice and use ice as a diving platform to reach snails, clams and worms on the shallow continental shelf.... In recent years, sea ice has receded north beyond shallow continental shelf waters and into Arctic Ocean water, where depths exceed three kilometres and walrus cannot dive to the bottom.


I think it's just a big ol' Walrus party!

[Read more stories about: migration changes, arctic meltdown, marine mammals]

[Permalink]
[Add your own quips!]


[Recovery]: from ABC , Tue Sep 30 2014:
Obama Creates Largest Marine Reserve In the World
President Obama today will sign a proclamation creating the largest marine reserve in the world - three times the size of California, totaling 490,000 square miles... The designation bans commercial fishing, dumping and mining in the national monument's waters, home to "deep coral reefs, seamounts, and marine ecosystems unique to this part of the world among the most vulnerable areas to the impacts of climate change," according to the White House. Environmental groups are calling this a "historic" move to protect precious wildlife....He has used his authority to designate more acres of federal land and sea environmentally-protected areas than any other president in the last five decades.


A new Eden.

[Read more stories about: smart policy, rights of nature, species restoration]

[Permalink]
[Add your own quips!]


[Species Collapse]: from , Tue Sep 30 2014:
Global wildlife numbers 'halved in four decades'
A WWF study has found that the world's wildlife population has dropped by more than a half in the past four decades - a far greater drop than identified in a previous report. Human numbers, meanwhile, have doubled... It revealed a 39 percent fall in numbers across a representative sample of land-dwelling species from 1970 to 2010, with the same depletion in marine species. In freshwater populations, the drop was more marked - at 76 percent.


Only solution is for humans to become wildlife.

[Read more stories about: death spiral, habitat loss]

[Permalink]
[Add your own quips!]


[Resource Depletion]: from Lincoln Journal-World, Tue Sep 30 2014:
Ogallala water continues to pour onto farm fields despite decades of dire forecasts
...The aquifer, a shallow, underground sea under parts of eight states and spanning 174,000 square miles, is the main source of water in the western third of Kansas. Counties on top of the aquifer account for roughly two-thirds of the state's agricultural economic value. Without Ogallala water, significant portions of the region's agriculture and its related businesses could not be sustained, manufacturing could not continue, recreational opportunities would diminish and towns could vanish, state officials say.


How brown will the earth / turn in a state run by a / climate denier?

[Read more stories about: drought, food crisis, water issues]

[Permalink]
[Add your own quips!]


[Climate Chaos]: from InsideClimate News, Tue Sep 30 2014:
Big Business Climate Change Movement Grows in Size and Heft
...Signatories representing $26 trillion in investment funds called on world leaders to enact strong policies, cut fossil fuel subsidies and make polluters pay for the effects of their emissions. There were commitments and pledges from the likes of General Motors, food makers Mars Inc. and Nestle, and consumer products giant Unilever. And a string of corporate CEOs joined early-adopters like Ikea Group in supporting renewable energy and citing proof that companies and countries can tackle climate change and prosper at the same time.


There will be no profits if customers are all dead.

[Read more stories about: smart policy, climate impacts]

[Permalink]
[Add your own quips!]


[Climate Chaos]: from Cedar Rapids Gazette, Tue Sep 30 2014:
Iowa farmers criticize Ernst on climate change, RFS
A super PAC backing Democratic U.S. Senate candidate Bruce Braley enlisted a pair of central Iowa farmers to criticize his Republican opponent, Joni Ernst, for a lack of leadership on renewable fuels and climate change -- issues they said hit home with Iowa ag producers. Bill Gannon, who has been farming for six decades, said flooding was rarely a problem until 1993. Since then, the Mingo farmer has seen crop damage and soil loss nearly every year due to flooding. "Serious rain events cause great losses for farmers who are trying to make ends meet," Gannon said on a conference call sponsored by NextGen Climate. The group is working to elect Braley of Waterloo, who has served eight years in the U.S. House. Gannon believes "climate change is a given."


The unimportance of being ernst.

[Read more stories about: deniers, people rise up, food crisis]

[Permalink]
[Add your own quips!]


[Climate Chaos]: from New York Times, Tue Sep 30 2014:
President's Drive for Carbon Pricing Fails to Win at Home
President Obama stood in the chamber of the United Nations General Assembly last week and urged the world to follow his example and fight global warming. But a major new declaration calling for a global price on carbon -- signed by 74 countries and more than 1,000 businesses and investors -- is missing a key signatory: the United States. The declaration, released by the World Bank the day before Mr. Obama's speech at the United Nations Climate Summit, has been signed by China, Shell, Dow Chemical and Coca-Cola. It calls on all nations to enact laws forcing industries to pay for the carbon emissions that scientists say are the leading cause of global warming.


Carbon pricing: It's the real solution.

[Read more stories about: stupid humans, deniers, capitalist greed, climate impacts]

[Permalink]
[Add your own quips!]


[Climate Chaos]: from Slate, Sat Sep 27 2014:
How Australia became the dirtiest polluter in the developed world.
The climate-conscious Labor Party is out, felled by infighting and a bloodthirsty, Rupert Murdoch-dominated press that sows conspiracy theories about climate science. In its place, Australians elected the conservative Liberal Party, led by a prime minister who once declared that "the climate argument is absolute crap." In the year since they took office, Prime Minister Tony Abbott and his Liberal-led coalition have already dismantled the country's key environmental policies. Now they've begun systematically ransacking its natural resources. In the process, they've transformed Australia from an international innovator on environmental issues into quite possibly the dirtiest country in the developed world. And in a masterful whirl of the spin machine, they've managed to upend public debate by painting climate science as superstition and superstition as climate science....


The climate issue is, after all, just an opinion, right, um, I mean, after all, it's just about interpretation. And jobs.

[Read more stories about: governmental corruption, death spiral, bad policy]

[Permalink]
[Add your own quips!]


[Resource Depletion]: from Yale360, Sat Sep 27 2014:
Aral Sea Basin Dry for the First Time in Modern History, NASA images show
For the first time in modern history, the eastern basin of the South Aral Sea has gone completely dry, as this NASA satellite image captured in late August shows. The Aral Sea is an inland body of water lying between Kazakhstan and Uzbekistan in central Asia. It was once one of the four largest lakes in the world, but it has been shrinking markedly and dividing into smaller lobes since the 1960s, after the government of the former Soviet Union diverted the region's two major rivers to irrigate farmland. One Aral Sea researcher suggested that it has likely been at least 600 years since the eastern basin entirely disappeared. Decreasing precipitation and snowpack in its watershed led to the drying this year, and huge withdrawals for irrigation exacerbated the problem.


The early superstardom went to Aral's head, and now look at him.

[Read more stories about: drought, water issues, unintended consequences, bad policy]

[Permalink]
[Add your own quips!]


[Recovery]: from New York Times, Wed Sep 24 2014:
Companies Are Taking the Baton in Climate Change Efforts
With political efforts to slow global warming moving at a tortuous pace, some of the world's largest companies are stepping into the void, pledging more support for renewable energy, greener supply chains and fresh efforts to stop the destruction of the world's tropical forests. Forty companies, among them Kellogg, L'Oréal and Nestlé, signed a declaration on Tuesday pledging to help cut tropical deforestation in half by 2020 and stop it entirely by 2030. They included several of the largest companies handling palm oil, the production of which has resulted in rampant destruction of old-growth forests, especially in Indonesia... Several environmental groups said they were optimistic that at least some of these would be kept, but they warned that corporate action was not enough, and that climate change could not be solved without stronger steps by governments.


I thought government and corporations were the same thing.

[Read more stories about: forests, carbon sequestration, climate impacts, smart policy]

[Permalink]
[Add your own quips!]


[Recovery]: from National Geographic, Tue Sep 23 2014:
New Reports Offer Clearest Picture Yet of Rising Greenhouse Gas Emissions
Two days before the UN Climate Summit in New York, three new studies paint the clearest picture yet of rising greenhouse gas emissions and the dwindling opportunity for staving off the worst impacts--and also of at least one way that huge undertaking might be shared fairly among the nations of the world.... In Nature Geoscience, Friedlingstein and his colleagues write that the world has already used up two thirds of the CO2 emissions quota that scientists say will keep the planet from warming more than 2°C (3.6°F). Beyond that temperature threshold, serious consequences are expected from sea-level rise and widespread disruption of weather patterns.... The researchers consider two basic principles for distributing the global emissions quota: "inertia," under which countries would continue to emit the same share of global emissions as they do now, and "equity," under which countries would be allowed to emit according to their population, with per capita emissions being the same everywhere.


As long as only property owners are allowed to vote!

[Read more stories about: carbon emissions, faster than expected, stupid humans]

[Permalink]
[Add your own quips!]


[Recovery]: from BBC, Mon Sep 22 2014:
Rockefellers to switch investments to 'clean energy'
The Rockefeller Brothers Fund is joining a coalition of philanthropists pledging to rid themselves of more than $50 bn (£31 bn) in fossil fuel assets. The announcement will be made on Monday, a day before the UN climate change summit opens on Tuesday. Some 650 individuals and 180 institutions have joined the coalition. It is part of a growing global initiative called Global Divest-Invest, which began on university campuses several years ago, the New York Times reports. Pledges from pension funds, religious groups and big universities have reportedly doubled since the start of 2014.


At this point they'll have to remove "coal" from the word "coalition."

[Read more stories about: climate impacts, carbon emissions, smart policy]

[Permalink]
[Add your own quips!]


[Recovery]: from E&E Publishing, Mon Sep 22 2014:
U.S. schools quickly climbing learning curve in solar power
America's K-12 schools are among the fastest adopters of solar power in the United States, with an estimated 3,000 new solar installations coming online between 2008 and 2012, a fivefold increase, according to a new study from the Solar Foundation and the Solar Energy Industries Association. The output from today's 3,752 solar-equipped schools is on the order of 490 megawatts, enough to power tens of thousands of classrooms while offsetting nearly 443,000 metric tons of carbon dioxide emissions annually, according to the solar organizations, whose findings were published yesterday in a nationwide survey. Moreover, the findings suggest that schools and school systems have shaved millions of dollars from their utility bills by installing solar panels, allowing for greater investment in textbooks, teachers and educational programs.


Might as well be walkin' on the sun.

[Read more stories about: renewable energy, people rise up]

[Permalink]
[Add your own quips!]


[Climate Chaos]: from Media Matters, Mon Sep 22 2014:
Sunday News Shows Ignore Historic Climate March
Sunday news shows on NBC, ABC, CBS, CNN and Fox failed to cover the People's Climate March, a massive protest against climate change being held September 21 in New York City in conjunction with events in more than 150 countries worldwide. Meet the Press, Face the Nation, State of the Union, and Fox News Sunday ignored the event, which is being touted by participants as "the largest mobilization against climate change in the history of the planet." The Nation editor and publisher Katrina vanden Heuvel briefly mentioned the march on ABC's This Week while arguing that national security concerns surrounding climate change are not receiving adequate attention.


The revolution will not be televised.

[Read more stories about: people rise up]

[Permalink]
[Add your own quips!]


[Climate Chaos]: from New York Times, Mon Sep 22 2014:
Global Rise Reported in 2013 Greenhouse Gas Emissions
Global emissions of greenhouse gases jumped 2.3 percent in 2013 to record levels, scientists reported Sunday, in the latest indication that the world remains far off track in its efforts to control global warming. The emissions growth last year was a bit slower than the average growth rate of 2.5 percent over the past decade, and much of the dip was caused by an economic slowdown in China, which is the world's single largest source of emissions. It may take an additional year or two to know if China has turned a corner toward slower emissions growth, or if the runaway pace of recent years will resume. In the United States, emissions rose 2.9 percent, after declining in recent years.


Way to get back in the game, US! The decline was starting to be embarrassing.

[Read more stories about: carbon emissions, global warming, holyshit]

[Permalink]
[Add your own quips!]


[Climate Chaos]: from Associated Press, Mon Sep 22 2014:
NOAA: Yet more global heat records fall in August
The globe smashed more heat records last month, including Earth's hottest August and summer, federal meteorologists said Thursday. May, June and August all set global heat records this year. Meteorologists at the National Oceanic and Atmospheric Administration said the average world temperature in August was 61.36 degrees Fahrenheit (16.35 degrees Celsius), breaking a record set in 1998. Scientists at NASA, who calculate global temperature a tad differently, also found August as the hottest on record.


The plan to set the earth on fire is unfolding beautifully!

[Read more stories about: anthropogenic change, climate impacts, holyshit, global warming]

[Permalink]
[Add your own quips!]


[Recovery]: from Mother Jones, Fri Sep 19 2014:
These Stunning Photos of Greenland's "Dark Snow" Should Worry You
Jason Box knows ice. That's why what's happened this year concerns him so much. Box just returned from a trip to Greenland. Right now, the ice there is... black.... The ice in Greenland this year isn't just a little dark--it's record-setting dark. Box says he's never seen anything like it. I spoke to Box by phone earlier this month, just days after he returned from his summer field research campaign. "I was just stunned, really," Box told me. The photos he took this summer in Greenland are frightening. But their implications are even more so. Just like black cars are hotter to the touch than white ones on sunny summer days, dark ice melts much more quickly.... Box gives the stunning stats: "In 2014 the ice sheet is precisely 5.6 percent darker, producing an additional absorption of energy equivalent with roughly twice the US annual electricity consumption."


Scientists have a name for reverse albedo: "Odebla.'

[Read more stories about: albedo effect, melting glaciers, anthropogenic change]

[Permalink]
[Add your own quips!]


[Climate Chaos]: from The Hill, Fri Sep 19 2014:
Proposed air conditioner rules could yield biggest savings
The Department of Energy (DOE) said Thursday it will propose efficiency standards for commercial air conditioners that could yield the most energy savings of any appliance standard. The agency said the standards for commercial unitary air conditioners, which are usually housed on the roofs of large buildings, will save 11.7 quads of energy over the lifetimes of units sold for 30 years.... "If finalized, it would also help cut carbon pollution by more than 60 million metric tons, and could save consumers nearly $10 billion on their energy bills through 2030," the White House said.


Something tells me we're going to need air conditioning in the future.

[Read more stories about: carbon emissions, climate impacts, efficiency increase, smart policy]

[Permalink]
[Add your own quips!]


[Climate Chaos]: from London Guardian, Thu Sep 18 2014:
Obama delays key power plant rule of signature climate change plan
Barack Obama applied the brakes to the most critical component of his climate change plan on Tuesday, slowing the process of setting new rules cutting carbon pollution from power plants, and casting a shadow over a landmark United Nations' summit on global warming. The proposed power plant rules were meant to be the signature environmental accomplishment of Obama's second term. The threat of a delay in their implementation comes just one week before a heavily anticipated UN summit where officials had been looking to Obama to show leadership on climate change. In a conference call with reporters, the Environmental Protection Agency said it was extending the public comment period on the power plant rules for an additional 45 days, until 1 December.


That's 45 more days of pure profit.

[Read more stories about: carbon emissions, governmental idiocy]

[Permalink]
[Add your own quips!]


[Biology Breach]: from JAMA - Journal of the American Medical Association, Thu Sep 18 2014:
Waistlines of U.S. adults continue to increase
The prevalence of abdominal obesity and average waist circumference increased among U.S. adults from 1999 to 2012, according to a study. Waist circumference is a simple measure of total and intra-abdominal body fat. Although the prevalence of abdominal obesity has increased in the United States through 2008, its trend in recent years has not been known.... The overall age-adjusted prevalence of abdominal obesity increased significantly in the U.S. from 46.4 percent in 1999-2000 to 54.2 percent in 2011-2012.


On the other hand, double chins have diminished by half!

[Read more stories about: koyaanisqatsi]

[Permalink]
[Add your own quips!]


[Resource Depletion]: from Guardian, Thu Sep 11 2014:
Amazon deforestation jumps 29 percent last year
The destruction of the world's largest rainforest accelerated last year with a 29 percent spike in deforestation, according to final figures released by the Brazilian government ...

Don't miss: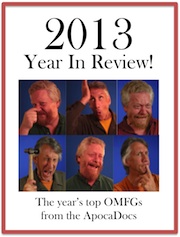 ---
Apoc-o-Meter
from the last 7 days


or visit our: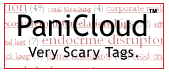 ---
"Perfect as a bathroom reader."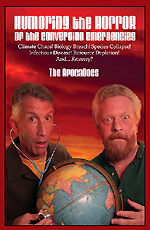 Humoring the Horror of the
Converging Emergencies
94 color pages
$24.99 now $15!
Or read FREE online!

---
Play: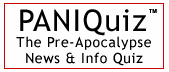 It's weekly, funny, and free!


Random Sample PANIQuestion:
What does cloud-seeding do?
a) It's designed to anger angels.
b) It's designed to destroy clouds.
c) It's designed to grow beanstalks.
d) It's designed to create baby clouds.
e) It's designed to create rain.

Answer: It's designed to create rain.

---